Season Overview
Edit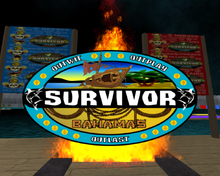 16 castaways embark on a adventure to the beautiful Bahamas were there must learn to adapt, not only in nature but in the game, can they outwit, outplay and outlast each other? This season, they will play with their loved ones who will be put on the tribe opposing them. They will need to battle for immunity to prevent them from being voted out at Tribal Council. 39 DAYS, 16 PEOPLE, 1 SURVIVOR.
Castaways
Edit
These are the cast members of Survivor Bahamas S1 Blood vs Water. Edit
Heroes: Ken_McNickle, cassandra_ika, miketwin03, BeSweety, MoistMoth (At Redemption Island), SippingThatTea, glamouhr, MajesticWarrior18
Villains: TheIronicKing, WisteriaMune, MRLAW19YT, Jojotwinore, CirieFieldsSurvivor, firmantheman, Pachirisu_1o1, iCoxucker
SPYS: TBA
Pre-Merge
Edit
Villains- Formed Day 1
Heroes- Formed Day 1
Others- TBD
Spys - TBD
Redemption Island - When a person is voted out, they are sent to Redemption Island to compete to get back in the game. Comebacks are held at Merge and F7/F8
Blood vs Water - People's loved ones will be playing with each other but will be put on the opposing tribe to their loved one.
Hidden Immunity Idol - People can find this idol at their respective camps, it is an advantage in the game and used to negate votes at tribal council.
Tribe Swap - Everyone gets randomly assigned to a new tribe, where they can either be reunited or still seperated from their loved one.
Merge- At the halfway of the game, the tribes will merge and become one where all of the players will have to compete individually.
Others - Any other twists could be in the game such as advantages, double eliminations, etc. More will be added as time goes on.
Challenges
Edit
| Challenges | Villains | Heroes |
| --- | --- | --- |
| Ep 1 Reward | Win | Lost |
| Ep 1 Immunity | Win | Lost |
| Ep 2 Reward | TBD | TBD |
| Ep 2 Immunity | TBD | TBD |
Placements
Edit
| Contestant | Original Tribe | Swap Tribe | Merge Tribe | Statistics |
| --- | --- | --- | --- | --- |
| MoistMoth | Heroes | None | | Voted Off Day 3 |
| Ken_McNickle | Heroes | | | |
| Cassandra_Ika | Heroes | | | |
| MajesticWarrior18 | Heroes | | | |
| MikeTwin03 | Heroes | | | |
| SippingThatTea | Heroes | | | |
| glamouhr | Heroes | | | |
| BeSweety | Heroes | | | |
| TheIronicKing | Villains | | | |
| WisteriaMune | Villains | | | |
| MRLAW19YT | Villains | | | |
| jojotwinore | Villains | | | |
| CirieFieldsSurvivor | Villains | | | |
| firmantheman | Villains | | | |
| Pachirisu_1o1 | Villains | | | |
| iCoxucker | Villains | | | |
Episodes
Edit
| Episode | Episode Number | Immunity-Holder | Person Voted Off | Reward |
| --- | --- | --- | --- | --- |
| You Don't Get Robux! | 1 | Villains | MoistMoth | Milk |
| TBD | 2 | TBD | TBD | |
CirieFieldsSurvivor, firmantheman, iCoxucker were absent at the first session so they missed out on idol hunting, strategizing, and the first two challenges. MajesticWarrior18, MoistMoth, and BeSweety were also absent at the first session
WisteriaMune had to leave in the middle of the first session in between the first challenge and the second challenge.
MajesticWarrior18, MoistMoth, BeSweety were absent at the first tribal council.
The tittle of the first episode is a quote from the host, AnyaDixxie.
Episode 2 was postponed to Saturday 7pm PST due to the death of the host, AnyaDixxie's pet lizard
Voting Chart
Edit
This is to be filled out when longterm is over. This would really make the game less fun as we can see on what people's sides are. Please do not put a voting chart here. Ty. xoxo, Ironic <3