Redemption Island is a major twist used in Survivor: Blood vs Water.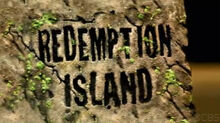 Redemption Island provides an opportunity for an eliminated player to re-enter the game and continue their pursuit to the million-dollar prize and the title of . In order to do so however, eliminated contestants will compete in head-to-head challenges (known as duels ) in order to remain on the island and avoid permanent elimination.
The re-entry points are at merge and Final 7 or Final 8.
| Duels | Winner | Loser |
| --- | --- | --- |
| Day 7- MoistMoth vs | | |
| Day 11- | | |
| Day 15- | | |